Yoga
Practice Yoga in the middle of nature, surrounded by the enchanting blue waters of the Turkish Mediterranean.
Yoga takes place on the sun deck, two classes daily, one in the morning and one in the evening.
Breathe in the fresh sea air and enjoy every day a new stunning view and if you feel like a refreshing dip after class, dive directly from your mat into the crystal clear turquoise sea.
A week of dedicated Yoga practice is a great opportunity to refine your existing practice and if you are new to Yoga the perfect way to get started.
The Yoga classes are suitable for all levels of practitioners, everyone is welcome!!!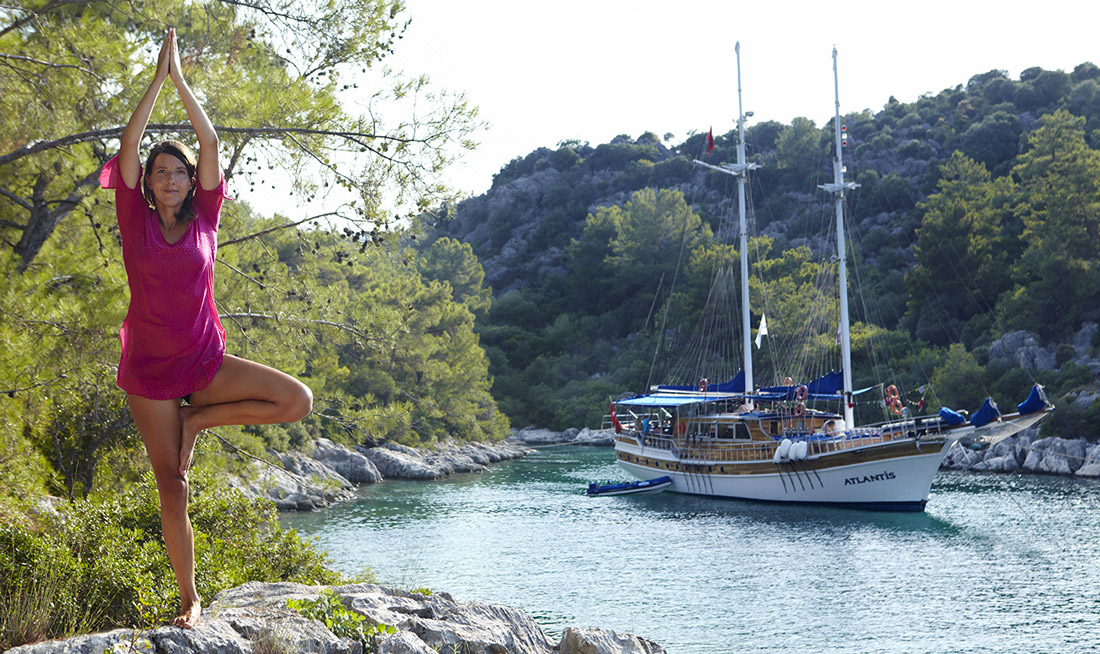 Teacher
Kathja
is the resident teacher aboard and teaches traditional Sivananda style Hatha Yoga. She is a Yoga Acharya, Master of Yoga and the founder of the YogaCafe, one of the first Yoga studios in Amsterdam. With many years of teaching experience, Kathja is a passionate and dedicated Yoga teacher who loves to work with people of all ages, shapes and sizes. She has an authentic way of teaching, makeing her students feel comfortable, emphasizing that there is no "being good" at Yoga, instead it's about feeling good with your practice, being yourself and having fun!
During a Vipassana meditation retreat in a Buddhist monastery in Thailand she took her first Yoga lessons, other retreats followed and Kathja decided to study Yoga and Ayurveda. She received her international Yoga teacher's certification in California through the Sivananda Organization and then studied at the European Academy of Ayurvedic Studies in Amsterdam to become an Ayurvedic Nutrition Therapist. Soon after Kathja received the Advanced Teachers certification in Madurai, India. In addition she studied Yoga Therapy with Ganesh Mohan/Svastha Yoga in Chennai, India and Thai Massage & Aromatherapy at Wat Pho in Bangkok, Thailand.
Danny Paradise
Every year we are happy to host some special cruise weeks with world class teachers.
This cruise season we proudly present two weeks with Danny Paradise who is one of worlds most renown and knowledgable Ashtanga Yoga teachers.
Danny has been practising Ashtanga Yoga since 1976 and teaching worldwide since 1979. He initially studied with the first Western teachers of Ashtanga, David Williams and Nancy Gilgoff.
Since 1979 Danny has introduced all levels of the practices of Ashtanga Yoga to students and teachers around the globe, also to famous musicians, dancers, Buddhist Lamas, actors and sports champions like Madonna, Sting, Pearl Jam, John McEnroe to name just a few.
www.dannyparadise.com