WELCOME TO THE YOGA CRUISE
We invite you to join us aboard for a unique holiday retreat. Enjoy a week of Yoga aboard a traditional style motor sailing yacht in the calm warm waters of the Turkish Mediterranean. Whether you want to enjoy your day relaxing in the sun, reading your favourite book, exploring the turquoise deep with your snorkel, go kayaking, making a trip to plenty of ancient ruins or visiting picturesque villages, all is possible on the revitalizing voyage along the Turkish Mediterranean coast.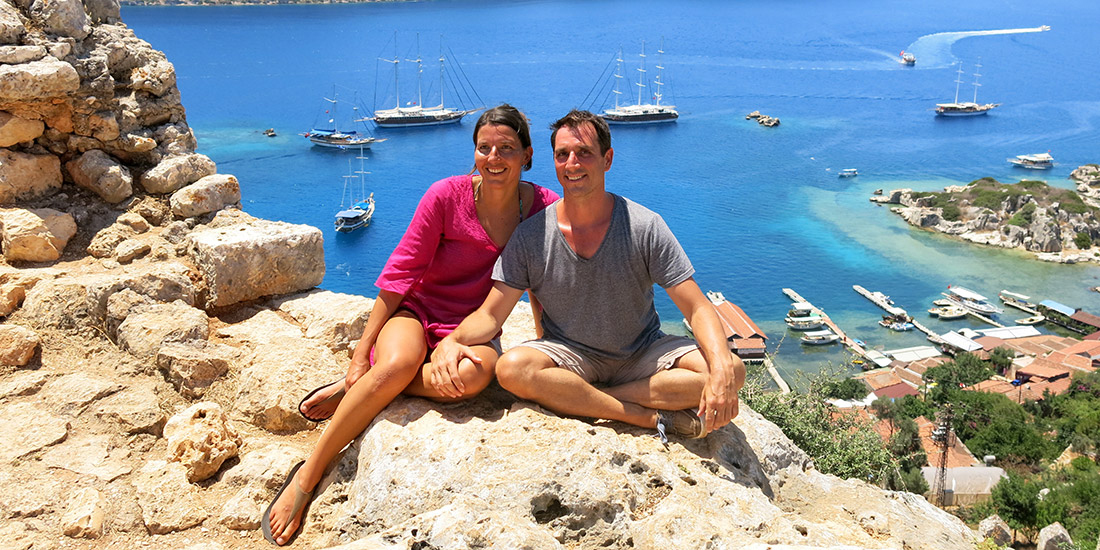 About us
Hop aboard for an exclusive week of Yoga and relaxation.
Be prepared getting spoiled on a beautiful ship in midst of an amazing scenery by Kathja & Sven and their wonderful crew.
Ranked among the top ten Yoga retreats in the world, Kathja & Sven are bringing international Yogis and Yoginis to the Turkish Mediterranean coast. Leaving behind a successful international career in the fashion world, Kathja being a photographer and Sven a manager, with the Yoga Cruise the two fulfilled their dream. The idea to combine the unique atmosphere and freedom of staying aboard a yacht with their love for Yoga was born during a private sailing trip along the Lycian coast, where they immediately fell in love with the blue sea, the stunning bays, the delicious food and the hospitality of the friendly locals.
The Yoga Cruise is a magnificent voyage on which you will experience the freedom of practicing Yoga, surrounded by the turquoise waters of the Mediterranean sea. The beautiful coastline with its idyllic villages, picturesque coves and over 5000 year old ancient civilization are waiting to be explored. This is an excellent opportunity to experience a taste of traditional Turkey in the unhurried pace of staying aboard a sailing yacht. Sit back, relax and let the experienced captain, crew and chef take you on an unforgettable journey.
Kathja & Sven and the Crew are looking forward to welcome you aboard!!!
Please note:
Kathja & Sven are the founders of the first and original Yoga Cruise and offer the cruises since 2008. However there are more and more copycats popping up who by "pure chance" have a very similar name,
nevertheless they have no relation with the Yogacruise.net ;))