DATES 2019
————————————————————————————————————————————————————————————
YOGA CRUISE 2019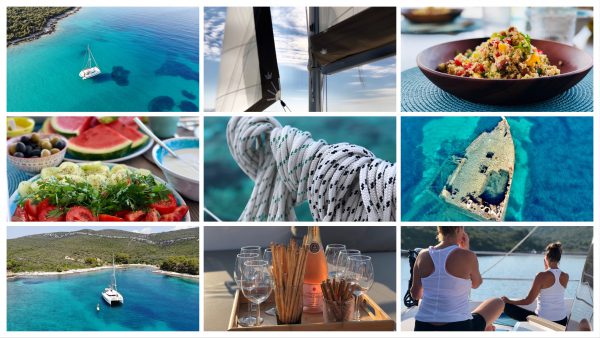 CROATIA AHOY!
After nine wonderful years cruising in Turkey aboard beautiful big wooden
ships it was time to do something different and explore new shores for a while.
Last season destiny found us a new stunning cruising area and led us to Croatia,
aboard the beautiful & brand new Sailing Catamaran Ananda,
where we are currently offering bespoke weekly Yoga trips sailing between the
hundreds of islands of Dalmatia. You might be wondering why we still have
the "old"website in place featuring Turkey? Surely Turkey will always stay in
our hearts and who knows where the wind blows us next… 😉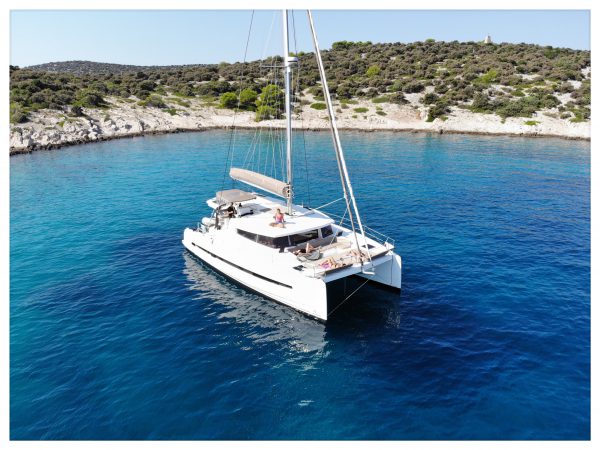 THE YACHT
We will be sailing aboard an exclusive 45 feet catamaran (built 2018),
featuring four cabins, each with one bed for 2 person and ensuite
shower & toilet. We are using one cabin, the other three are for up to
6 guests. Her size is also perfect for a small group of friends sharing the
whole yacht exclusively! She has several lounge areas and a fabulous
sun deck where the daily Yoga sessions take place.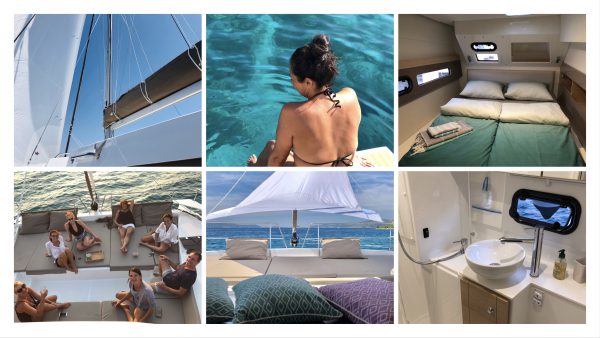 THE JOURNEY
The Dalmatian coastline offers so many possibilities and amazing places
to visit by boat and we have put 3 wonderful routes together. Think of
stunning islands, secluded bays, beautiful old towns, cool beach bars,
local wine tasting and authentic tavernas for a fresh fish dinner….
Depending on the route, our journey starts/ends in Trogir or Biograd.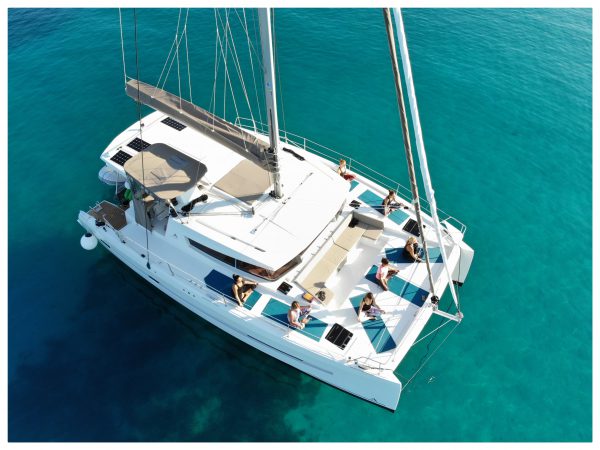 THE YOGA
The daily Sivananda Hatha Yoga class takes place on the sun deck. Practise
Yoga in the middle of nature, surrounded by enchanting blue waters.
Breathe in fresh sea air and feel free to dive straight after class from your
mat into the turquoise deep.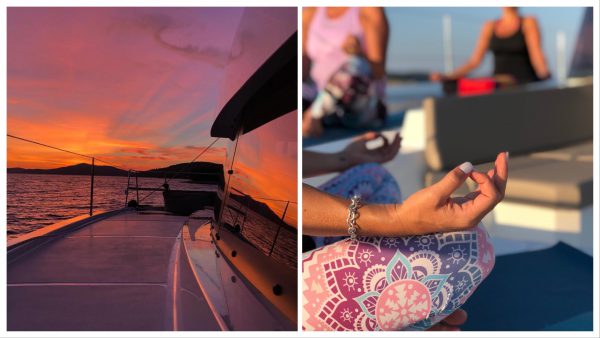 THE FOOD
We offer half-board, meaning everyday you will be served a wonderful healthy
Mediterranean breakfast and either a delicious sumptuous vegetarian lunch or
dinner aboard. On most days there will be also the possibility to do an excursion
and to explore the shore and enjoy a meal or snack on land to sample the local
cuisine as well. In case we will stay the whole day in a secluded bay, we will
of course provide both, lunch and dinner aboard.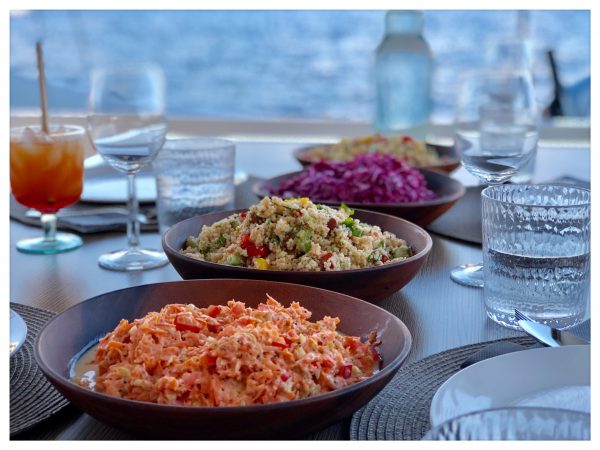 CROATIA DATES
MAY
19/05 – 26/05 – (Trogir-Trogir)
28/05 – 04/06 – (Trogir-Trogir)– fully booked
JUNE
06/06 – 13/06 – (Trogir-Trogir)– fully booked
14/06 – 21/06 – (Trogir-Biograd)– fully booked
23/06 – 30/06 – (Biograd-Trogir)– fully booked
JULY
02/07 – 09/07 – (Trogir-Trogir)– fully booked
11/07 – 18/07 – (Trogir-Biograd)– fully booked
19/07 – 26/07 – (Biograd-Trogir)– fully booked
28/07 – 04/08 – (Trogir-Trogir)– fully booked
AUGUST
06/08 – 13/08 – (Trogir-Biograd)
15/08 – 22/08 – (Biograd-Trogir)– fully booked
23/08 – 30/08 – (Trogir-Trogir)– fully booked
SEPTEMBER
01/09 – 08/09 – (Trogir-Trogir)– fully booked
10/09 – 17/09 – (Trogir-Biograd)– fully booked
19/09 – 26/09 – (Biograd-Trogir)
27/09 – 04/10 – (Trogir-Trogir)– fully booked
OCTOBER
06/10 – 13/10 – (Trogir-Trogir)– fully booked
For bookings, enquiries or if you like to be added to the waiting list for a fully booked date, just send us an

email
To see the latest pictures visit us on

Facebook
If you like to be informed about cruise news, subscribe to our

Newsletter