Dates 2018
If you like to be informed about new adventures, send us an
email
or subscribe to our
Newsletter
ITINERARY
Route 1:
Finike – Kas – Finike
( arrival & departure airport Antalya )
Route 2:
Fethiye – Kas – Finike
( arrival airport Dalaman – departure airport Antalya )
Route 3:
Finike – Kas – Fethiye
( arrival airport Antalya – departure airport Dalaman )
Route 4:
Fethiye – Göcek – Fethiye
( arrival & departure airport Dalaman )
Costs
One week Yoga Cruise, two daily yoga sessions, accommodation, breakfast, lunch, tea time and dinner
€ 980
   per person in a shared triple cabin (friends only, 1 double + 1 single bed)
€ 1180
per person in a shared cabin (twin or double)
€ 1480
in a double cabin for single use
Flight, transfer, beverages and optional excursions are not included in the price.
Here you find a currency converter www.xe.com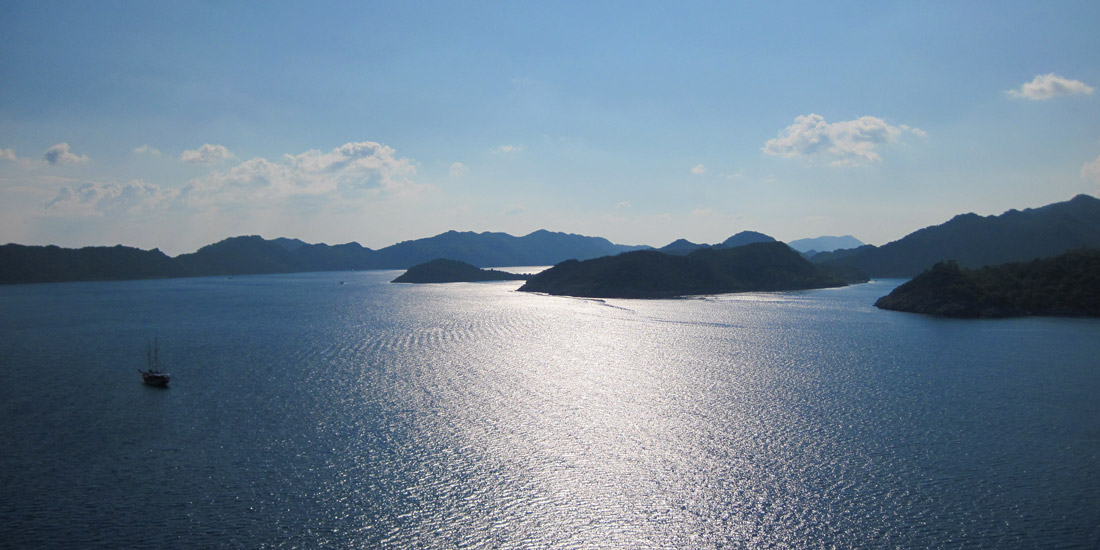 Travel
Where we start & end our journey
We have 4 different routes, depending on the cruise date our journey starts/ends in the marina of Finike or Fethiye. Finike is about 120km southwest of Antalya airport (2h drive) and Fethiye around 50km east of Dalaman airport (1h drive).
How to get to the marina – airport transfer
A shared transfer from the airport to the marina and return can be arranged by us for €30 per person from Dalaman to Fethiye and for €40 from Antalya airport to the marina in Finike. The price is per person one way. There are also public busses (dolmus) going from Antalya bus station (which is located around 20km from the airport) to Finike and from Dalaman to Fethiye. Alternatively you could take a Taxi (Antalya – Finike ca.€90, Dalaman – Fethiye ca. €60). Please feel free to contact us for further info & assistance.
Check-in & Check-out
Your cabin will be ready to check-in on the arrival day from16.00h, check-out on the departure day is after breakfast at 10.00h. The first & last night we will be spending in the marina and start our journey on Sunday morning after breakfast, therefore late arrivals or early departures are no problem.
If you arrive earlier or depart later you are most welcome to store your luggage on board.
For good flight offers visit:
Feel free to contact us, we will be happy to assist you in finding the best travel options.